---
Intercast's automotive castings offer unmatched design flexibility, weight reduction, and surface finish for all major automotive manufacturers in North America and worldwide.
For nearly 60 years the automotive industry has relied on Intercast's repeatability, flexibility, and cost-saving manufacturing methods.
---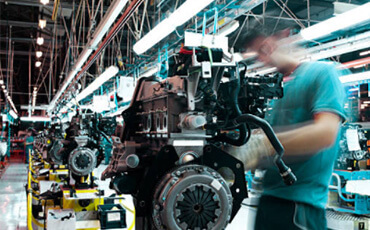 ---
The Intercast foundry was established during the height of the automotive industrial movement. Our long standing history in the automotive industry is unmatched against any other North American investment casting supplier.
​​​Our team of engineers work with top automobile manufacturers to optimize their casting designs to ensure cost effectiveness and the durability of the products.
For over 30 years, Intercast has been supplying fully assembled injector clamps and high pressure fuel sensors that meet the high strength / weight ratio demands for diesel engines components. We were designed to handle to the work load of automotive components, and like the vehicles they go into, our castings are built to last.
Typical Applications
Parts we produce for automotive applications include:
---
Turbocharger wheels
Wastegate
Fuel rail function blocks
Actuator rods
Rocker arms
Intermediate levers
Steel pistons
Direct injection system
Variable valve timing
Exhaust gas regeneration
Let's Build a Partnership
Contact Intercast today to begin the awesome journey of becoming one of our benefitting customers. Relationships don't happen overnight. Intercast is here for the long haul, so you can put your trust in us.